Backup as a Service
Cloud backup on an Opex cost
Your data, safe and secure
Let us quote you on Cloud Backup.
Backup as a Service
Cloud Backup
An introduction to Backup as a Service
Triple4's Backup as a Service is a real cloud backup solution that requires no initial upfront investment. Our Cloud Backup scales to your data needs to ensure your information is always fully recoverable in the unfortunate event of loss or corruption.
Backup is one of the first things we automate; therefore, it should be the first thing we continually review and improve.
Often businesses deploy multiple solutions to address all their backup needs. With Triple4 Backup as a Service, we take care of everything, including recovery testing.
Periodic recovery testing is possibly almost more important than frequent backups. A backup may report as successful, but without the appropriate testing, one will never honestly know.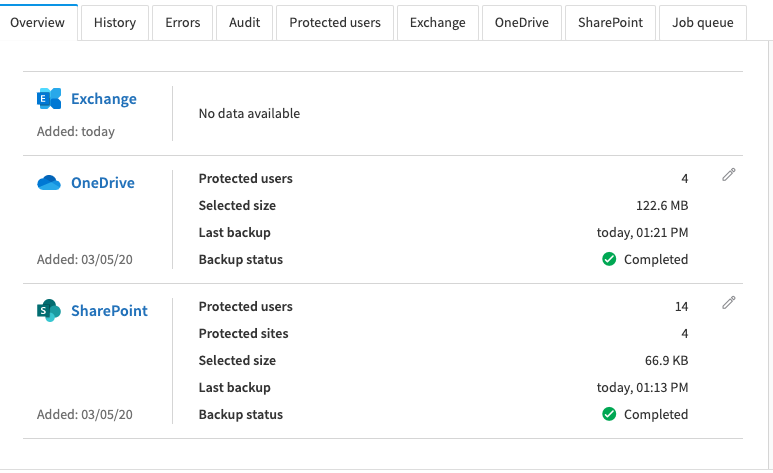 Deploying our Cloud Backup solution is fast and straightforward. Most of the work can be done remotely and managed seamlessly by our expert teams.
Suppose you have any concerns about large first-time data ingestions into our Online Backup environment. In that case, we have many techniques and options to get around that potential hurdle.
Key Features of Online Backup
Periodic recovery testing
Wide array of supported platforms
Backed by a highly skilled team
All backup sets are safely stored in the cloud
Backup as a Service
Technology
Supported Platforms
VMware
Hyper-V
Exchange
MS-SQL
Bare Metal
Microsoft 365 Exchange
One Drive and SharePoint
Faster
Delta Deduplication
Compression
Block-level changes
Low bandwidth
Local SpeedVault
Secure
End-to-end encryption
Data encrypted at rest and in transit
Global and regional data centers
Workstation
Rapid recovery
Appliance-free
Document
28-day retention
End-user self-service
Unlimited documents